Cedar Shingles
Cedar Shingles are a beautiful roofing product that is often imitated in appearance by man-made roofing materials. Each roof is unique and each individual shingle is hand cut by trained and experienced employees. Some of these cedar tradesmen have had decades of experience making shakes and shingles. Cutting cedar is as much art as science. It involves a skilled eye and years of experience with the wood.
BBS Timbers stock Western Red Cedar shingles No.1 Blue Label H3 treated and kiln dried, these are ideal for walls and roofs that don't collect drinking water.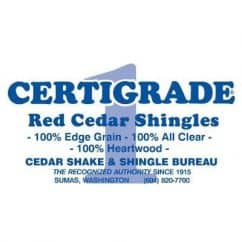 The shingles are usually band sawn 450mm in length with varied widths and taper to a wafer thin end, sold by the bundle.
Each  bundle covers 2.3 sq mtr approx.
When you choose a Cedar roof, you're choosing a luxury item, not just a roofing material.
Gallery
Downloads